Your Account and Subscription
---
let's begin
While the use of CalTopo does not require an account, creating an account will allow you to return to saved maps, share maps more easily, and much more.
Here we cover Login Methods and Account Acceess, which covers creating an account and logging in to the account. In the following lesson in this chapter, we look at all the information stored in your account as you use CalTopo.
Topics On this Page:
Lessons in this Chapter:
Account Creation and Login
Users attempting to sign up or login on a mobile device, scroll down to the mobile section.
Caltopo.com: Most users will be using caltopo.com to login. Some users who are using the program for first response and search and rescue operations will use sartopo.com.
These two systems are currently on different servers and thus if you have both SAR maps and CalTopo maps, you will see the set of maps only when logged in to the proper server for each type.
Sign Up vs Login: In the top right corner of the page are two buttons: Sign Up and Log In. If you have never signed in to CalTopo before, choose Sign UP. If you have previously logged in, choose Log In.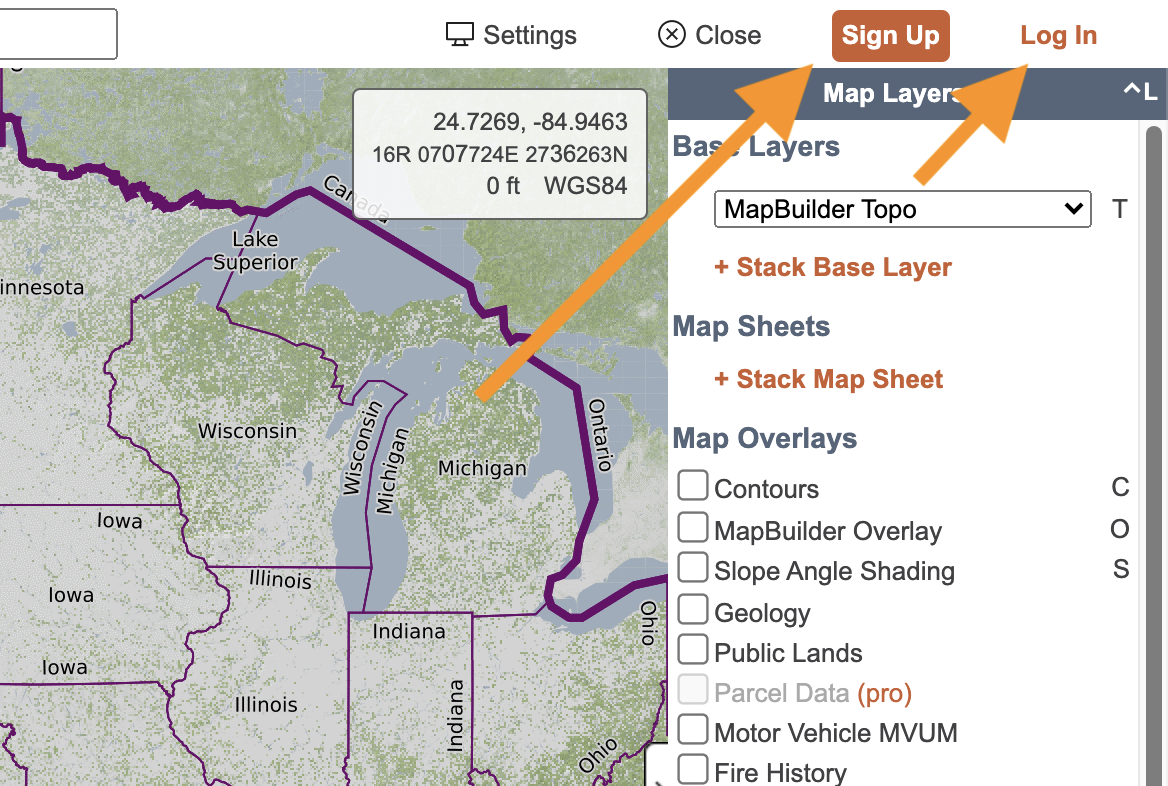 ID provider: When you click sign up or login, it will ask you which type of account you want to use. These account providers give CalTopo a way to verify your account access without us having to write our own login credentials and store your information. Read more about why we use this method in our FAQs.
Each login provider is a different CalTopo account. If you signed up with Google, and you next try to login with the same email but using Facebook instead, it will tell you that no account exists.
Next, login to the account you are using to create the CalTopo account with. For example, if you are creating an account using Google, when you click the Google option from the list, it takes you to sign in to Google. Enter your Google name and password to login. Then you will be returned to CalTopo to finish creating your account. You will have to authorize CalTopo to use the account provider for access.
When you sign up and create a new account, you will have to agree to the Terms of Use and Privcy Policy.
If you end up with two accounts and want to connect them, you can set an alternate login. See below for instructions.

Creating and Account on a Mobile Device
At this time, you cannot create an account directly in the mobile app. When you try to do so, your web browser on your phone should open and the steps will be identical to the rest of this page.
If you have trouble opening the link from the app, go in your phone browser to caltopo.com/join and create the account there, or do so from a computer.
Login to the App with Existing Account
Users who already have a CalTopo or SARTopo account can login to the mobile app by first selecting a server - either CalTopo or SARTopo. After selection, you are prompted to choose a login provider. If you don't see the full list, click the link for "More logins...".
Fill in the username and password for your account provider. When accepted, you will be asked to sync your device to that account. You can change the name of your device so that you can identify it in your device list later if you need to. Once you select "sync account", login is complete and the map viewer appears.
Logout
To logout of your account, from the map viewer, click your user name to open the Your Account panel.
Next to your username is the link to logout.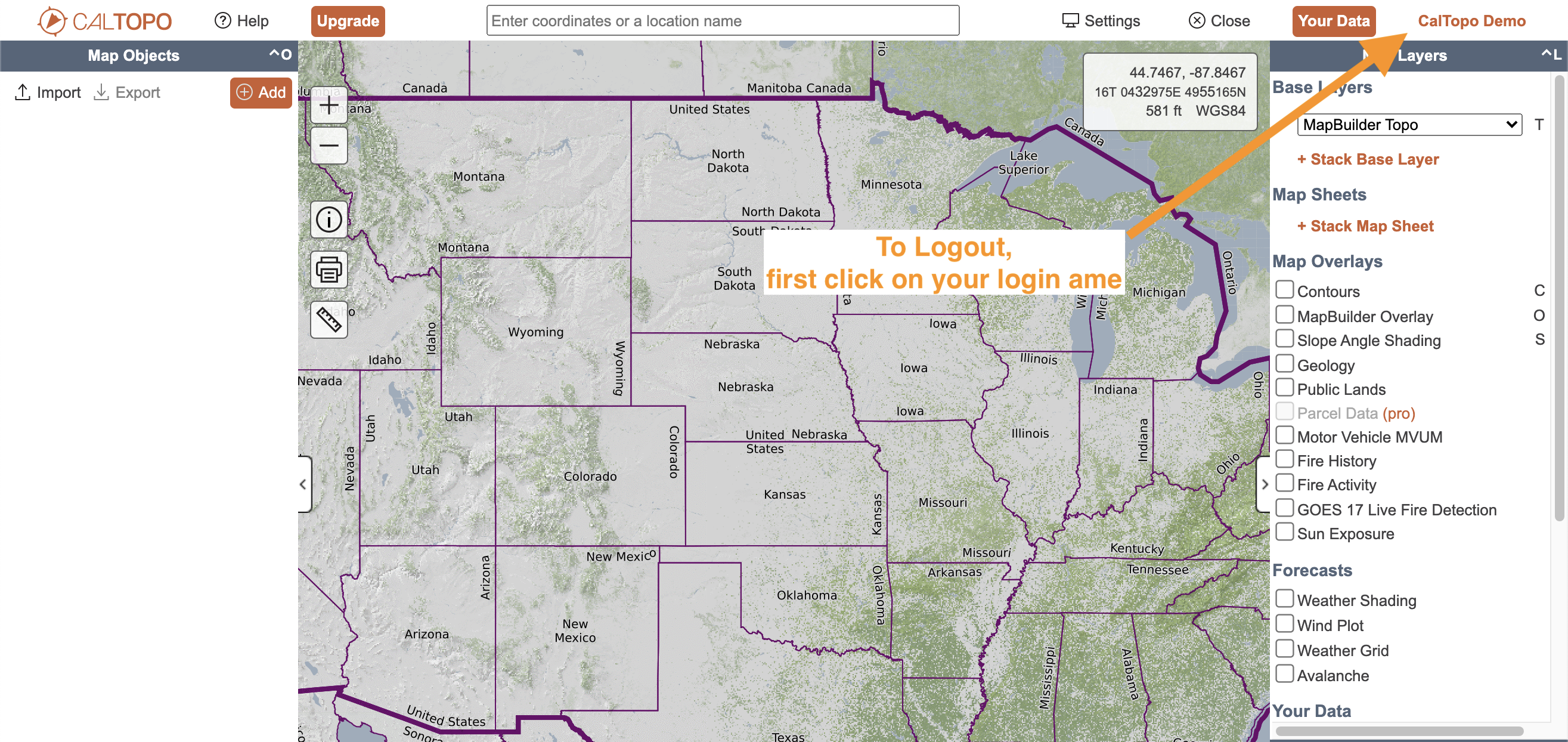 Logging Out of the Mobile App
Go to the 3-bar hamburger menu in the upper left corner of the app. Then select Account. At the bottom of the screen is the button to log out of the app.
---
Account Basics
Account types and privileges
Our platform is free to use as long as you want, with additional features available via an annual subscription.
See this page for details regarding account types and what you can access from each subscription level. And the FAQ for additional information.
If you plan to use the mobile app offline, you will need to subscribe to the Mobile subscription level at a minimum in order to download base layers to your device.
Subscribing or Managing your Subscription
You can change your account subscription yourself at any time.
The signup process is straightforward. Here are some screenshots.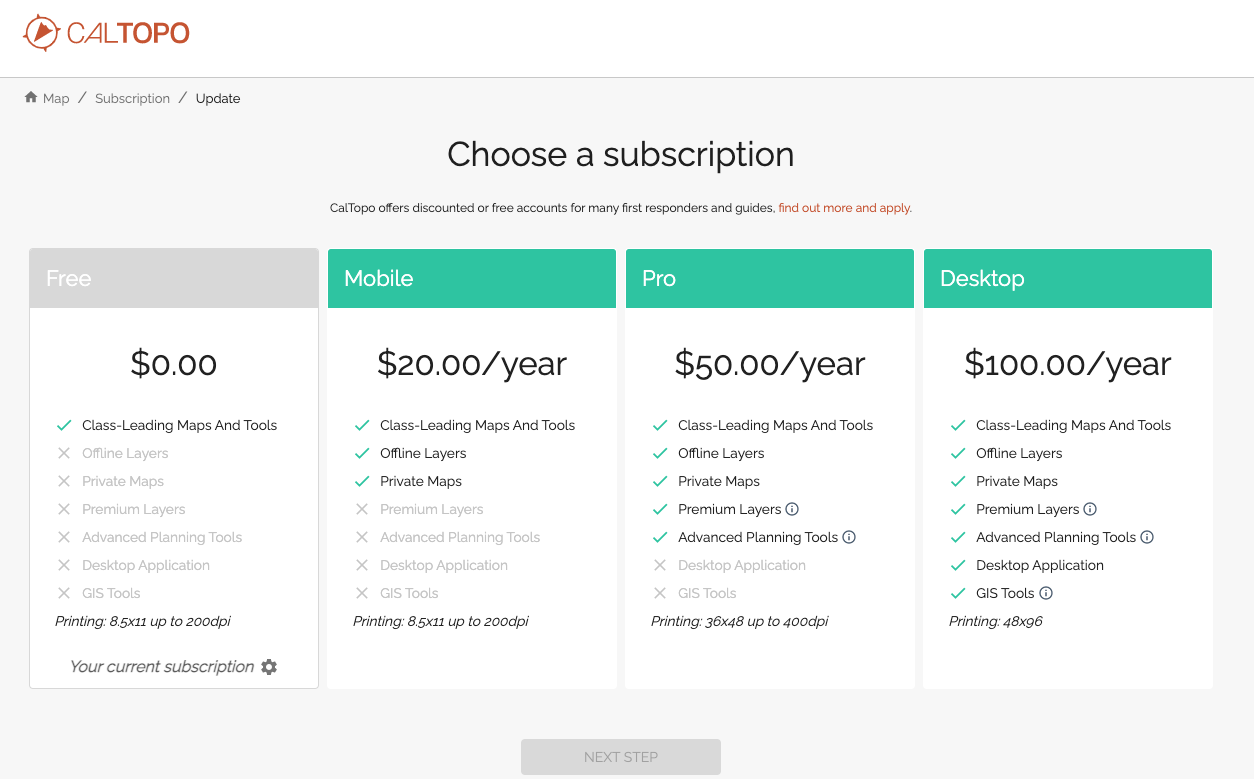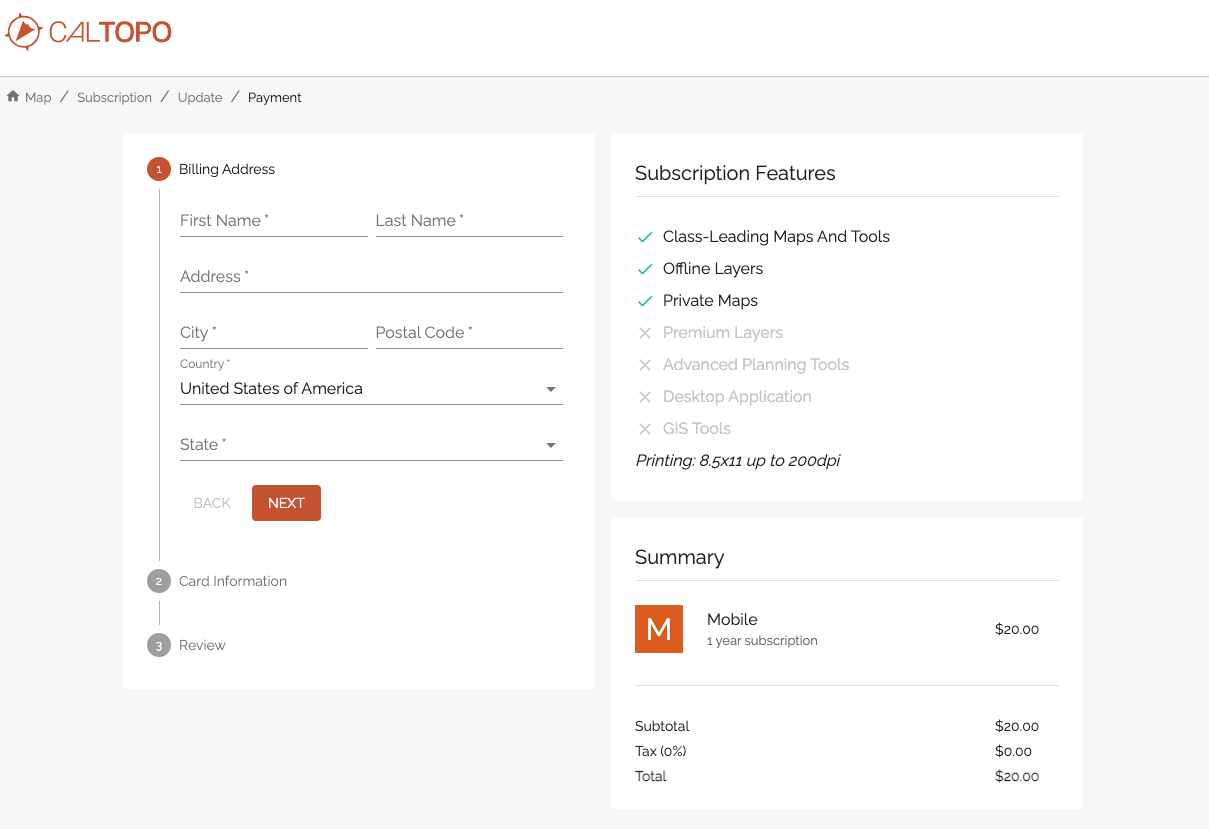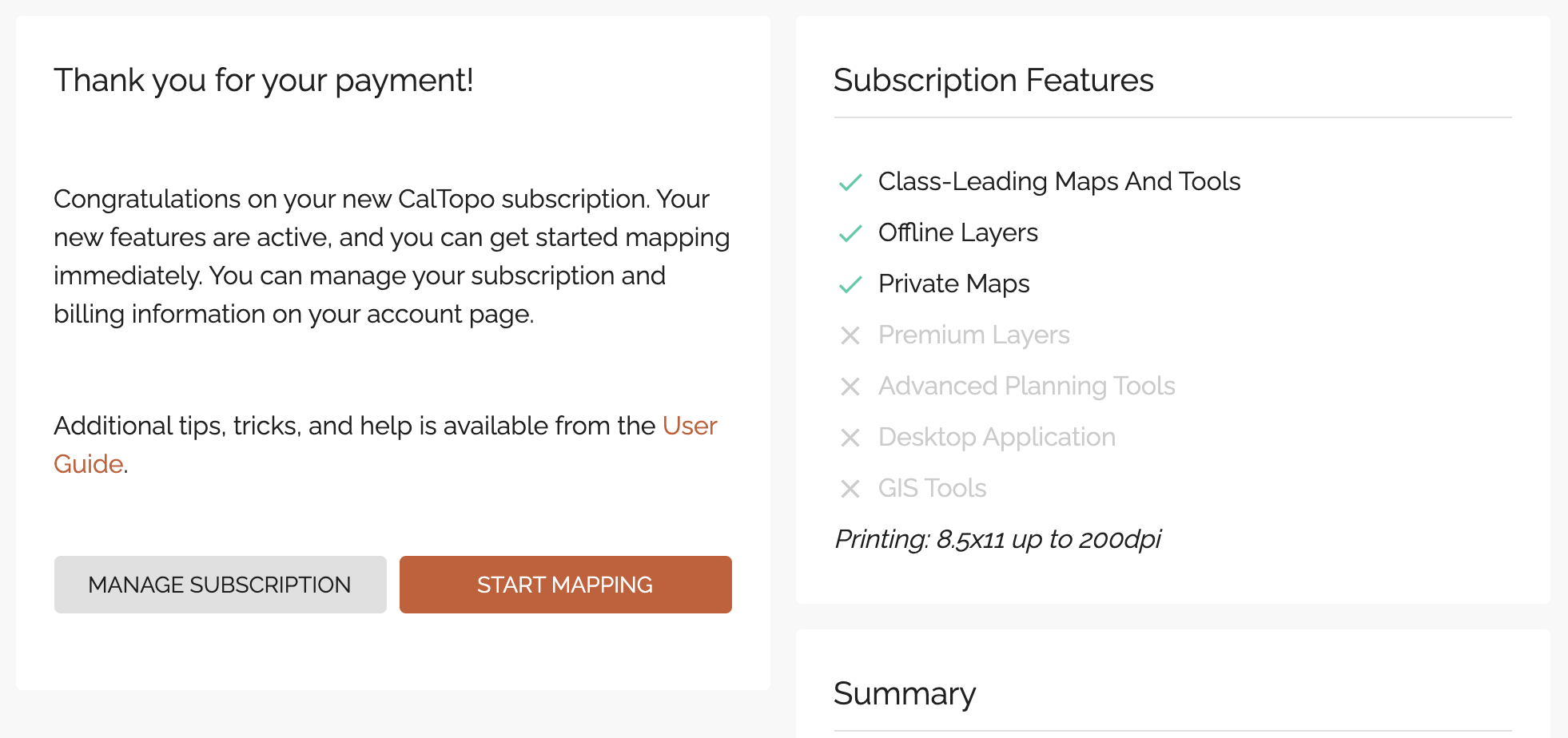 ---
Managing Auto-Renewal and Card Updates
You can control whether your subscription renews automatically every year. Go to Your Account, then click the Subscription Info button.

On the next page, you will see what subscription you have currently and a button to either renew your account or cancel the auto renewal.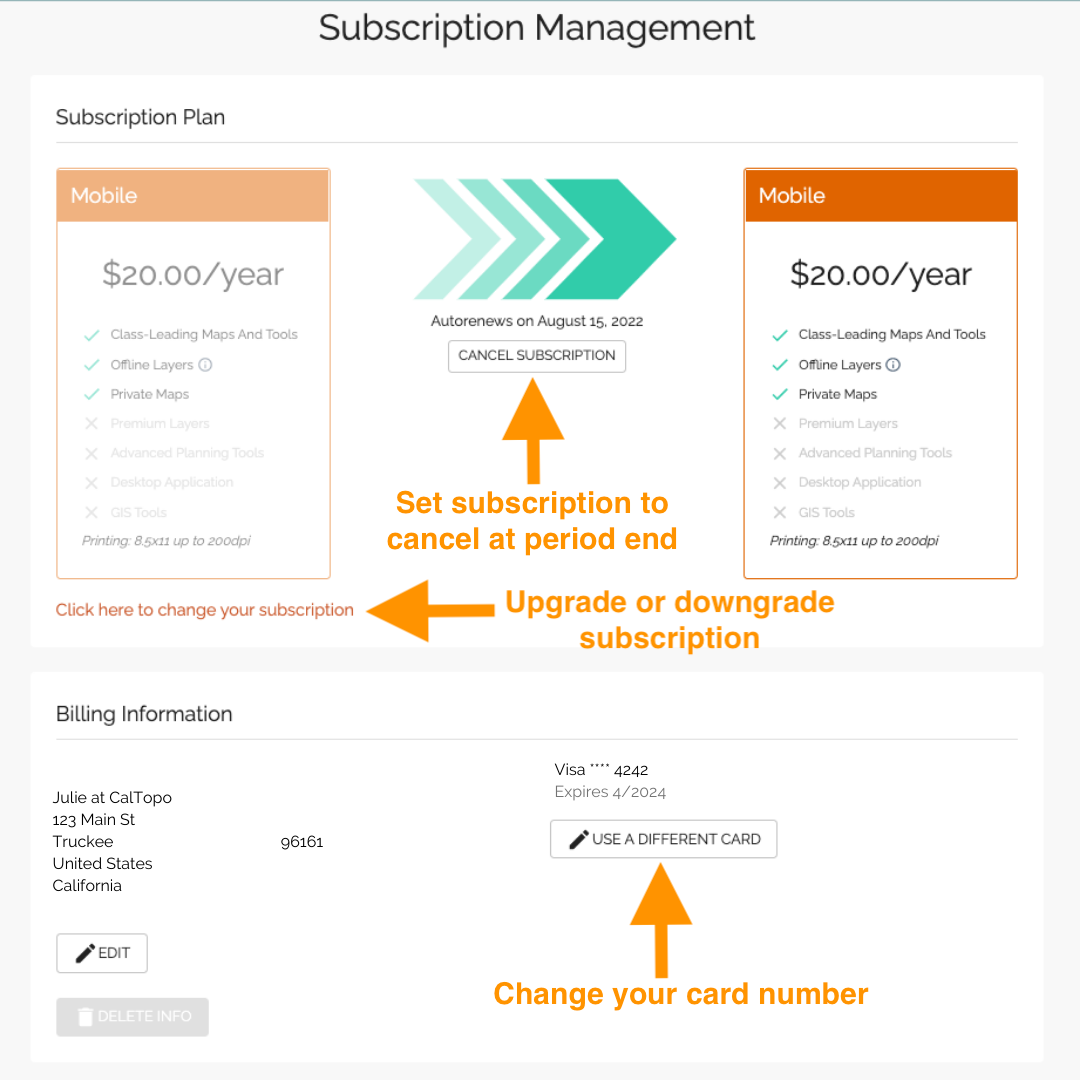 ---
Merging Logins
Please contact CalTopo support at help@caltopo.com if you need to change your login credentials or combine two accounts that you own.
---