Team Accounts
---
let's begin
Team accounts are designed to make sharing of maps and custom data seamless within groups. Team members each get an account where they can have their own maps and access to all CalTopo/SARTopo features (excluding Enterprise features). They also get a set level of access to all team maps.
This video walks through the major features of SARTopo team accounts, which are a great option for many first responder organizations and teams. We also offer CalTopo team accounts for businesses and professional organizations, such as trail building and guiding services. Check it out!
Team accounts were originally designed for use by search and rescue teams, but we are increasingly seeing use by many other types of organizations, from wildland fire, to swat teams, to public land management groups and mountain guide companies, to name a few. If you have a need to provide all team members with the full set of mapping tools and to be able to share maps and other data with ease, team accounts may be a good option.
Lessons In this Chapter:
Topics on this Page:
How to Purchase a Team Subscription
The simplest way to purchase a team account is to go to CalTopo Team Accounts or to SARTopo Team Accounts, login to your personal account, and make the purchase. You will be the first admin on the team. We recommend creating and using a general, easy to transfer login ID for this first admin account. Transferring ownership of the team account to another user if the admin leaves the organization is difficult. Thus, we also require at least two admins on every team account.
The above method is for purchases via credit card or ACH transfer. Because of the additional support required, alternative payment methods are only available to full price team accounts. If you are purchasing a full price team account and need to pay with a check or require a purchase order before moving forward, please contact us at help@caltopo.com with the billing name, email, billing address, size of team, and tax-exempt status if applicable. We will then work with you to set up the team subscription.
For first response organizations that are composed entirely of volunteers with no paid employees, we offer a significant discount on the cost of team subscriptions. If you are unsure which level subscription price you qualify for, please contact us at help@caltopo.com.
Managing Your Team Subscription
To access the team admin page, first login to CalTopo or SARTopo. Then click on your login name in the upper left corner to access your account information. Here you will find a button to administer your team. Clicking the Adminster button will open the team admin page in a new browser tab.

In the admin page there are sub tabs that let you manage different aspects of the team. The page will first load on the members tab. Here you can create links to use to invite team members to join the account, and manage existing account users.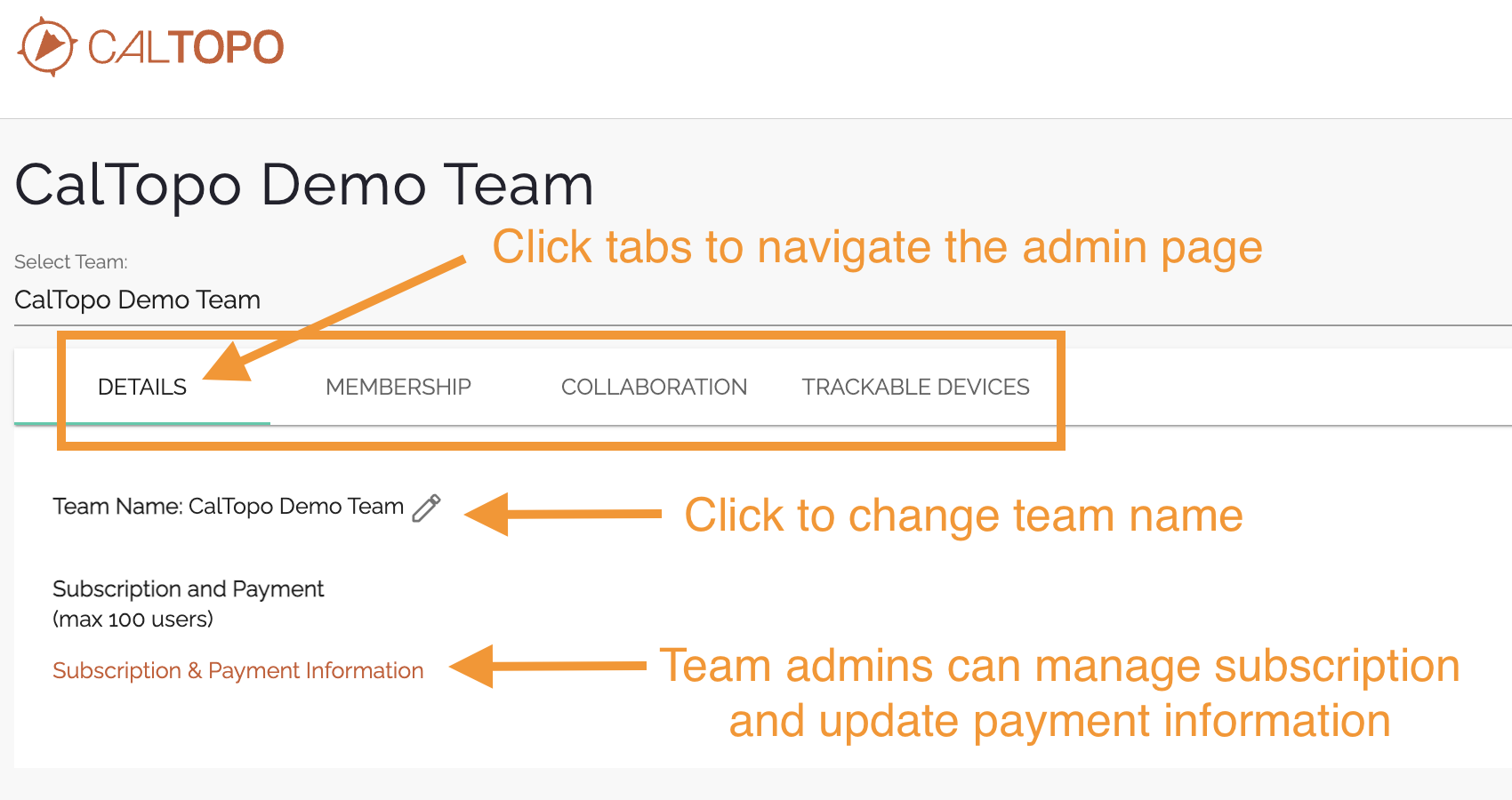 Invite Team Members
Access links allow people to join the team account. To invite team members to join, you create access code links that you can copy and paste to an email, or open a QR code team members can scan with their mobile device. This is done from the Membership tab in the team admin page.

To create the signup code, click the Create Code button. Next select the settings for that link. You can choose how long the link will be active, from one day, one week, one month, or one year. Every code generated get an expiration date.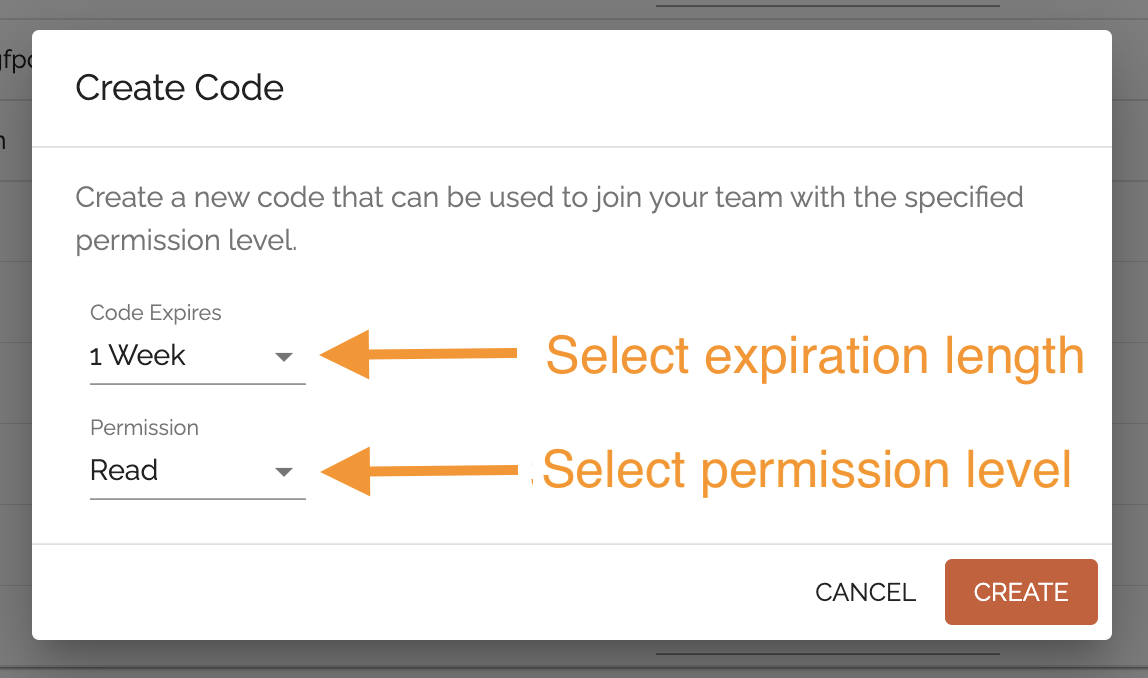 If your users don't open the code and join the team before the code expires, you will have to give them a new one. Shorter expiration dates are most secure, as anyone with the link could theoretically join the team. Then you must set the user level (see below for descriptions).
Press the Create button to make the code. It appears in a list of signup codes above the list of existing team members. To share the links, highlight them and copy the code via command-c (Mac) or control-c (Windows). Then paste the code into an email to the appropriate team members. Alternatively, you can click the QR code button to the right of hte link, and print or show the code to a person who has the CalTopo mobile app. This person can scan the QR code with their app, then follow the instructions to join the team.
There is no limit to how many people you can have at each account level. They could all be admins if you wanted, though we request that you have at least two admins.
Membership Levels for Team Members
Read Only members can view team maps but not modify any data. This can be a good option for members of cooperating agencies, since it lets you automatically share data but prevents them from modifying your maps.
Update is a good level for most users since it allows them to still add information, such as mobile tracks or clues, to the map, but prevents them from accidentally deleting data. They can add new maps to the team account, but will lose write access to that map when they do so.
Write members can modify team maps, adding or deleting objects from those maps. They can save new maps to the team account, but can not pull team maps out of the team account. They can not edit sharing settings.
Managers can create shareable links for people outside the team account, set up team-wide custom layers and icons, and delete maps or PDFs saved to the team account. This is a good level for mission coordinators and mission leaders so they can share maps outside the team. Managers can also create events and share invites to those events.
Administrators can modify subscription and payment information, and invite or remove team members. Team accounts are required to have at least two administrators for redundancy.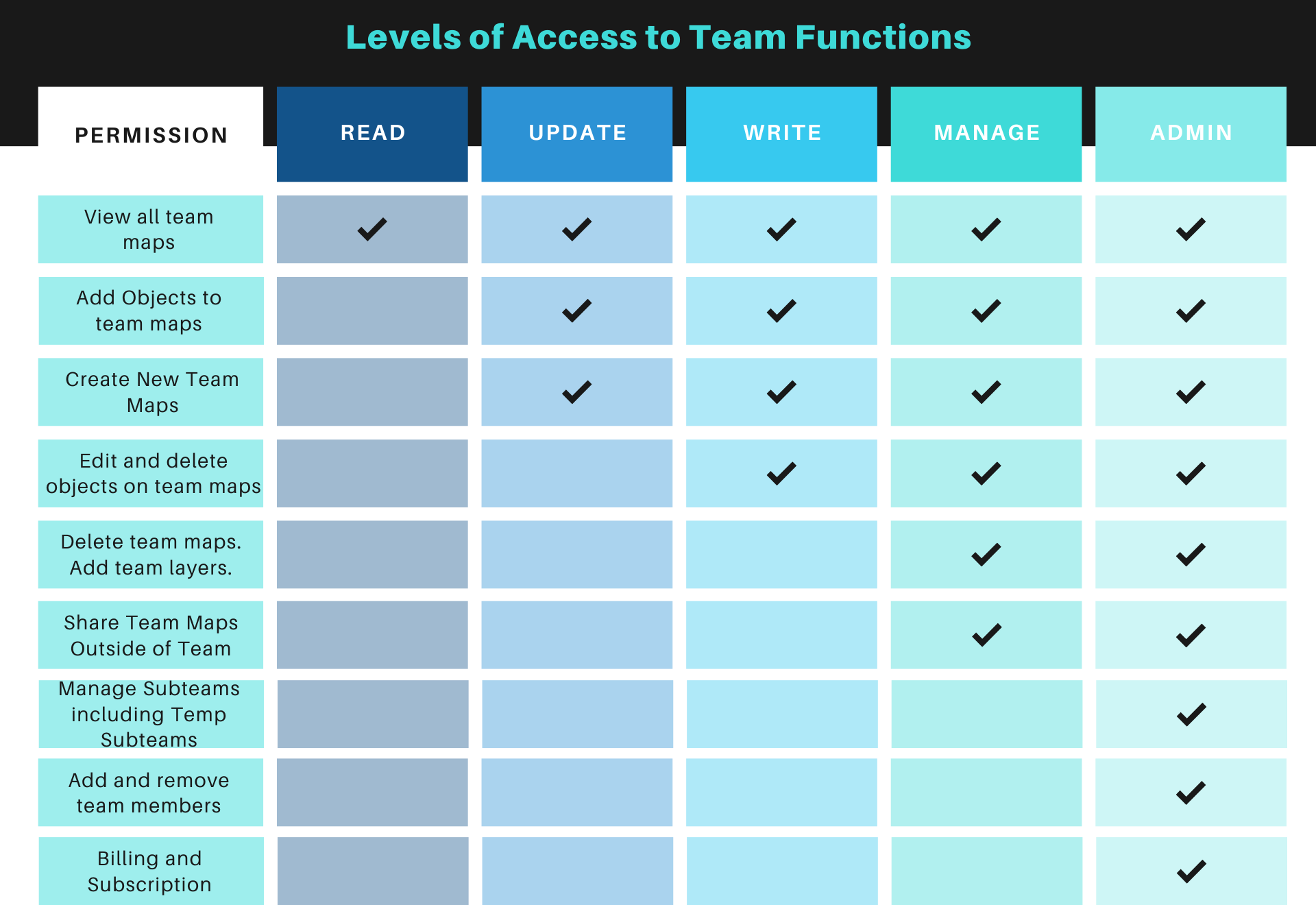 Manage Existing Team Members
Further down in the membership tab within the team admin page, there is a list of all current team members on the account, along with their access level. If they provided a name when they started their account, it will also list here. (At this time there is no way to update team member names.) You can, however, change their access level to the account using the drop down menu. So if you accidentally provided a Manager link and you need the person to have write-access, you can change that here. Use the trash can icon to remove team members from the team account. At the top of the list in the title area you can see the number of licenses you have and the number used of the total.

Other functions in the team admin page
Team Admins will have a tab that shows access to the subscription information for the team and a link to edit the subscription and billing.
Events and Trackable Devices we will cover in a later lesson.
---
Joining or Leaving a Team as a Member
Before you activate your team link, you will want to login to CalTopo or SARTopo with the credentials that you want associated with the team. Make sure you are signed into the account that you want to use for the team (you can still have your own maps in this same account, that the team cannot access.) For example, if you share a computer with your spouse, make sure you are signed in as yourself, and not as your spouse.
To join the team, open the invite link by clicking on it. A new tab will open confirming that you want to join the team with the account you are signed in with.
If you did not sign in already, you will need to do so now, or create an account if you do not already have one. See the page about accounts for more information. Follow the instructions on the pages to complete the joining process. When complete, you will be returned to the map viewer.
To check your team status or to leave the team, go to Your Account and look for the team section. Any teams you are on are listed here, and you have a button to leave the team.

---