Getting Started with CalTopo
---
let's begin
CalTopo is a powerful and dynamic tool for creating and using highly customized maps. The possibilities of what you can do with CalTopo are practically endless and, if you are new to our mapping software, it can be hard to figure out where to start!
This chapter is your quick user guide for getting started with using CalTopo, whatever your goal may be. If you are new to CalTopo, please read this chapter, beginning with the Basic Principles of CalTopo covered below.
Lessons in this Chapter:
Topics on this Page:
What is CalTopo?
In its simplest form, CalTopo is a set of digital maps, and you can add and store location-based data to these maps. To use CalTopo effectively, there are a few basic principles you should know.
Basic Principles of CalTopo
In CalTopo, you have layers (base layers and overlays) and maps and it is important to understand the difference between the two:
Base Layers and Overlays: Flexible, but non-editable background layers. Traditionally what you think of as maps.
Maps: Geo-referenced data that you add by creating objects. In other words, a Map is the set of objects that you add at a specific set of coordinates, no matter what base layer or combination of base layers you have beneath.
Baselayers and map objects are not attached to one another other than that they both represent a similar place on the surface of the earth. You can change which base layer is displayed as much as you want, combine it with other base layers, add overlays - but your objects will not change based on the background.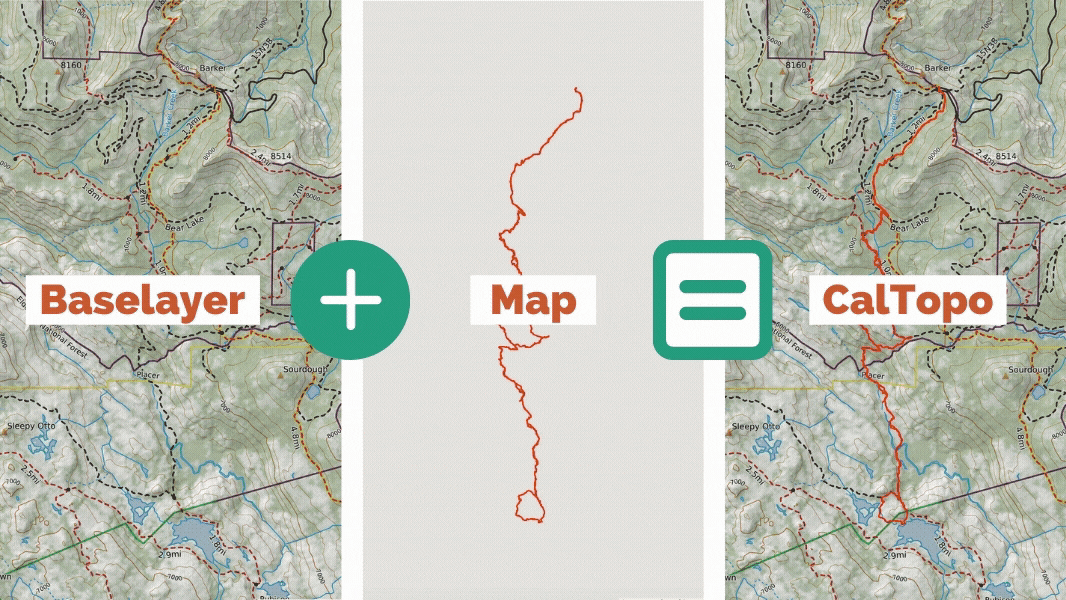 When you save a map, you are saving the objects, not the background base layer. This is especially important for working in the CalTopo mobile app. Your maps may be synced to your phone, but if you leave a network area or go into airplane mode, you won't be able to see the base layers until you have downloaded layers. You may be most comfortable printing a map so that your base layers and map objects are together forever. As you get more comfortable with the program and with the mobile app, you may find that printed maps alone lose much of the functionality that makes CalTopo different.
---
Why use CalTopo?
There are many reasons to make maps, and even more reasons to consult maps. We believe that a single base map does not always convey enough information, and it would be impossible to put all the types of information that anyone would want to use onto just one map. Thus, we provide the opportunity to view dozens of types of maps and overlays, and allow customization by stacking layers or creating your own base layers.
Building your own maps using objects opens up the options of many more features such as:
creating a route that you can then view with different base layers
determining the length and elevation profile of a route
sharing plans with your friends
marking things you find during your adventures
calling out dangerous areas to avoid
and much, much more.
Throughout this training series, we hope to help you master some of the many applications for using CalTopo, as well as basic workflows and best practices.
The possibilities of what you can do with CalTopo are practically endless and, if you are new to our mapping software, it can be hard to figure out where to start. The purpose of this training is to walk you through creating your first map on the web app, starting with the log in process and finishing with viewing your map on your mobile device. We will be covering all the steps in the video below, as well as how to print and view your map on your mobile device!
Getting Started with CalTopo (Old Interface)
This short video covers the most basic processes for using CalTopo.
---
Continue on through the lessons for detailed explanations of these steps.
---