Create a Map Sheet
---
let's begin
Creating and using your own map sheets is a powerful tool included in Pro and higher subscriptions. In this lesson we will cover how to upload, georeference, and save your own map sheets.
Topics on this Page:
Creating a New Map Sheet from a File
Now let's look at uploading your own map sheets for personal use. This feature is only available for pro, desktop or team accounts. It has to be done on a saved map, meaning you have added at least one object, such as a marker, to a map, then used then saved that map to your account.
Your Map Sheets
Let's go through an example to better understand how to use this feature. Let's upload a map of the Big Cypress National Preserve in Florida. There isn't a lot of information about this preserve on any of the base layers available on CalTopo so it makes a good choice to add as a map sheet.
Select Map Sheet from any of the Add New Layer menus and the map sheet dialog will appear.
Upload the file and select whether or not you would like to share the map sheet publicly. Click Add.

If the file contains geospatial alignment data (such as a georeferenced PDF file), then the map sheet will automatically align. If not, then you receive the following dialog and manual alignment will be required.

Manual Alignment
To manually align your map sheet, match two points on the image with two points on the map. Try to choose very obvious and well established locations on both the image and map so it's easier to align your map sheet. Right-click on the map sheet and select "Georeference> Mark Point" to mark image points. Right-click on the mapviewer and select "Georeference> Mark LatLng" to mark corresponding coordinates. As you mark image points and coordinates, move the opacity slider to see how well the map sheet is aligning. You can zoom in/out and remark image points or coordinates as many times as needed. The video below demonstrates the manual alignment process.
Geo-Referencing a Map Sheet
To view the full process of aligning a map sheet, watch this short video.
Once you are happy with the alignment of your map sheet, press Save.
Map sheets that are added to the map will appear in a Map Sheets folder in the left side bar as well as in the Map Sheets dropdown menu on the right.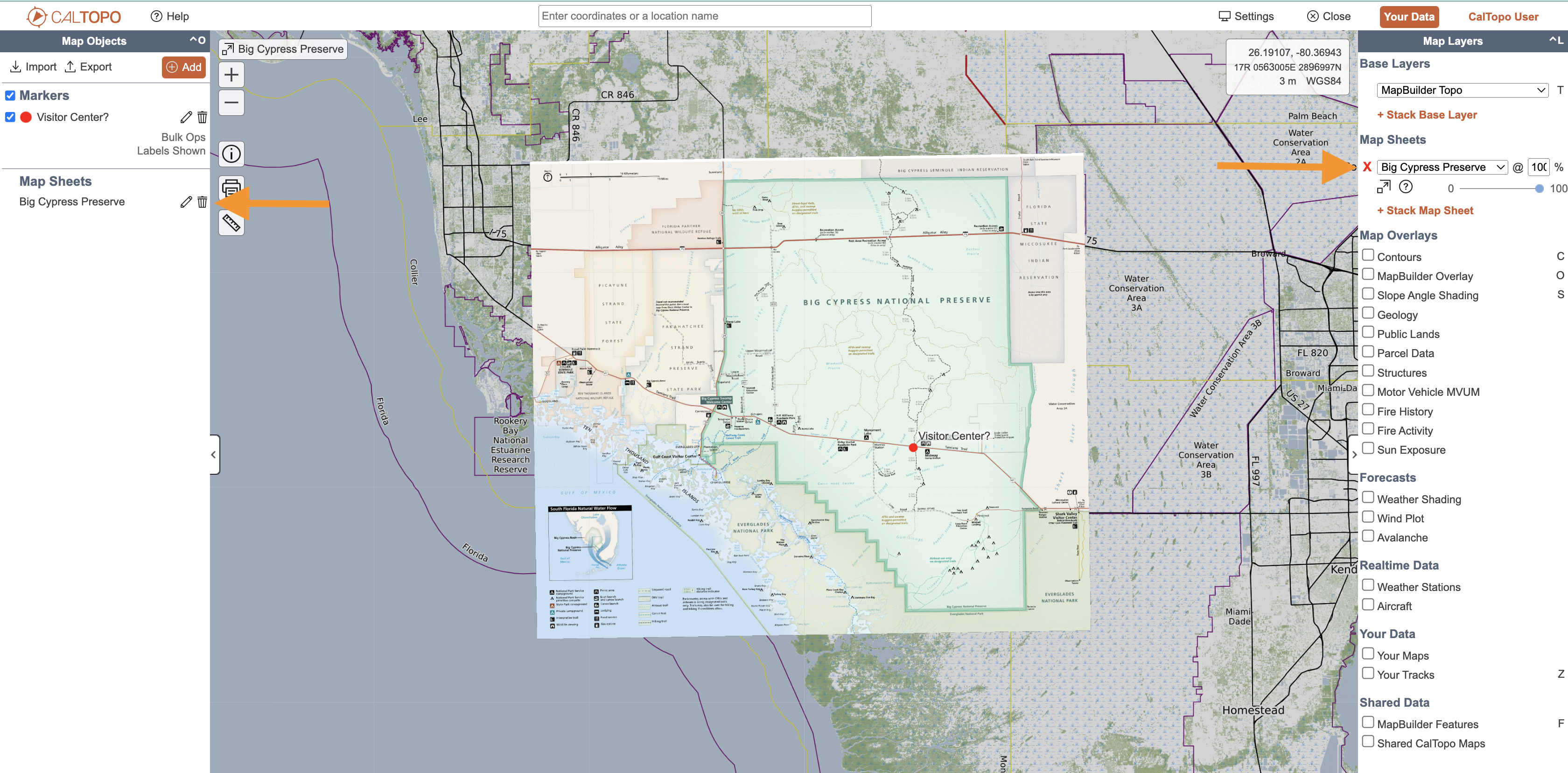 Currently the map sheet is only added to the map. To save the map sheet to your account, click on the pencil icon to the right of the map sheet name in the Map Sheets folder. A dialog will appear and you can click Save To Account to save the map sheet to your account for future use.

Saved map sheets will appear in the Map Sheets tab of your account. In addition, saved map sheets will also appear in the Map Sheets dropdown menu on the right hand side above Shared Sheets when you are viewing that particular area in the map viewer.
---